SoSH Baseball tries to cover the sport from all angles: while our bread-and-butter is the rigorous analysis of the game for both the major leagues and minor leagues, we also look at the game off-the-field, as well as the remarkable, the weird, and the weekly occurrences. When FOX announced a weekly series focused on baseball, we were excited to cover the TV series Pitch – and that was before we found out it was going to be about baseball breaking the gender barrier.
Each year, Major League Baseball honors its place in American history with Jackie Robinson Day, commemorating the legendary player, and the sport, for "breaking the color barrier" by allowing all qualified players to compete on the same field. For some younger fans, the idea that sports – and society – were at one time segregated by race is hard to imagine. But it was a way of life for more than 80+ years after the Emancipation Proclamation. And it was a very big deal when Robinson took the field for the Brooklyn Dodgers in 1947. Almost seventy years later – and with an African-American in the White House – baseball's history-making step forward has become part of the past that makes baseball America's national pastime.
To date, baseball has not had a female player compete in a major league game. But that didn't stop the FOX network and creators Dan Fogelman and Rick Singer from imagining what it might be like to see the "gender barrier" broken. While there is currently no female player toiling away in the affiliated minors – Stacy Piagno and Kelsie Whitmore played in the independent leagues this summer – there are millions of women playing baseball at the high school level and beyond – many of them dreaming someday of taking the field in a major league stadium. Pitch depicts what it might be like for the first female MLB player.
Pitch wastes no time addressing the elephant in the room: The show opens with Kylie Bunbury – who plays Ginny Baker – rolling out of bed and showing off her physique. It isn't gratuitous, but it clearly establishes that this is a show about a woman. After a brief flash of the ballpark outside her hotel window, the journey begins. The opening sequence takes us into the media maelstrom that will certainly result when a woman breaks into baseball, and uses sports reporters Matt Vasgersian, Ken Rosenthal, and Katie Nolan – as well as Joe Buck and John Smoltz – to introduce the frenzy, and backlash, associated with a woman "who isn't Jackie Robinson" playing in the big leagues.
Bunbury has undeniable screen presence. The show wastes no time in introducing Baker to the clubhouse and to her teammate – Padres team captain, superstar, and catcher Mike Lawson – portrayed by Mark-Paul Gosselaar, sporting a tremendous playoff beard. Baker and Lawson quickly bond over his equal-opportunity "ass slapping" – a humorous introduction to baseball culture and tradition. It almost makes you forget the scene of Baker's limo pulling up outside the stadium as fans scream and cheer:
Baker begins her major league career the same way many rookies do, unable to find the plate – 10 consecutive balls, 2 wild pitches – and she asks out of the game. However, Bunbury shows off the athleticism and delivery of a believable pitcher even throwing pitches to the backstop. Unlike some actors – Tim Robbins in Bull Durham springs to mind – Bunbury looks natural on the mound. Regardless of anything else, the show HAD to get this right. Thankfully, they did. Bunbury's brother Teal is a forward for the New England Revolution in Major League Soccer and her athletic gifts are obvious. No matter where the series goes from here, the showrunners Fogelman and Singer got the most important thing correct: Baker looks like a pitcher.
"You're not a Girl Scout leader, rookie. You're a ballplayer. You do this for you. You do this for your team. Or you don't do it at all," says Lawson to Baker after her second start begins with more pitches outside the zone. Baker goes on to record a believable performance – 8 hits and 3 runs over 6 ⅔ innings – and then comes the twist: her father (portrayed by the excellent Michael Beach) died in a car wreck the night she signed with the Padres, five years before seeing her take the mound in the majors. The scene of her throwing to him after her disastrous first outing is a fake-out; the other scenes of him repeating "we ain't done nothing yet" to a young Ginny are there to frame just how much further she has to go before she can consider herself a success. The ex-minor league player-slash-Dad teaches her to throw a screwball and motivates her, long after he has gone. It is a touching, real look at how young athletes are pushed, and supported, by their parents even when those parents are no longer there in person.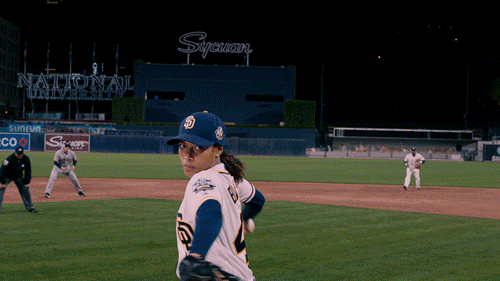 At cookouts and parties all summer, I spoke to fathers – baseball fans – who had heard about Pitch. Invariably, these men had daughters and their hope was obvious: Could a show about a female baseball player make it more likely their daughter would get a chance someday? The conversations all went the same way: If she were good enough, talented enough – why not? That is the American Dream after all: that if you're good enough, talented enough, then you can do anything. That was the driving force behind Robinson (and others) taking the field with their white peers nearly seven decades ago – that if they were good enough and talented enough to compete, why should they not be able to play "in the big leagues"?
Someday, a woman will be good enough, and talented enough. Pitch shows one way it might happen. Everything around Baker feels realistic: the media coverage, the frenzied fans, the pressure on her to fit in and succeed. Kylie Bunbury gives a believable performance that may well inspire young women to pick up a baseball and play the game. And if someday, one of those women is good enough, talented enough, to step onto a major league field to compete – well, baseball will have broken another barrier, and chronicled another step forward from America's past.
VERDICT: If you haven't already, you're gonna hear about this show – FOX will probably relentlessly promote it throughout the MLB playoffs. Bunbury's performance of Baker is compelling, and a peek inside an MLB clubhouse is another reason to watch. Most importantly, MLB, FOX, and the showrunners understood that they weren't going to hook baseball fans with unbelievable game scenes – the action on the field is believable, and quality. They successfully recorded their first "out" of the inning in the pilot episode. Hopefully, they'll get some more innings to settle into the fall schedule.
---
Featured image courtesy of FOX.